Winter 2010
Doing boat stuff away from the boat
Having shipped home all of the running rigging and non-sail canvas, bimini, dodger and sail covers, I planned to have a few winter projects. Through the winter of 09-10, I have replaced and spliced all of the original 3-strand running rigging with new double braid and I have sewn a new replacement Bimini and Dodger and Main and Mizzen sail covers. This has taken a few time consuming items off of the Spring To-Do list.
Although some of the running rigging was serviceable for the sea trial, some was in desperate need of repair. It was all three strand that was very stiff and showed the effects of being out in the atmosphere, on the hard, for 4+ years.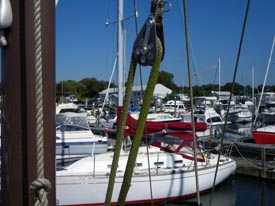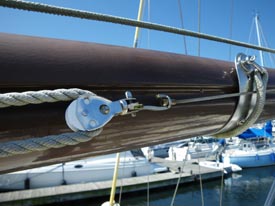 Got a little mold problem here and an out haul literally on it's last leg.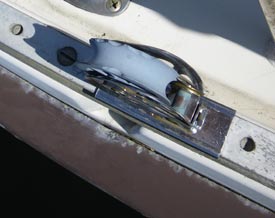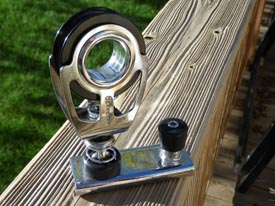 UV rays and hard use have taken their toll on this Genoa Track Car. Here is the new replacement from Garhauer.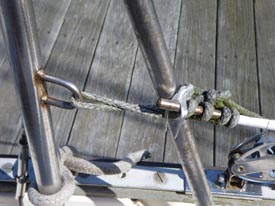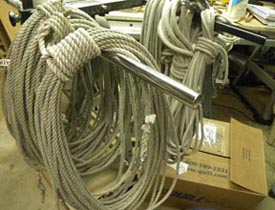 You probably wouldn't want to trust this lifeline. All four lifelines were in dire straits and are being replaced with new Suncor Lifeline kits.
The old halyards on the right are so stiff that they won't uncurl very easily. A good washing may restore some of their flexibility but running rigging should be something you can depend on so I ordered lots of new double braid and its ready to go into service.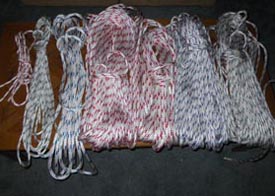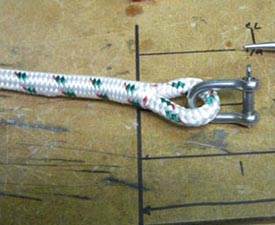 The new double braid arrived early in January and the splicing began.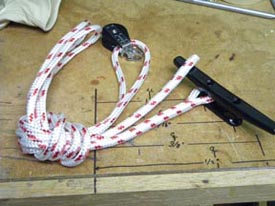 A new out haul ready to go and all of the halyards, sheets and vangs, ready for service.
The old canvas had seen better times and was beyond any reasonable repair so our living room and dinning room combined to make a layout and sewing area for a new suit for the Princess.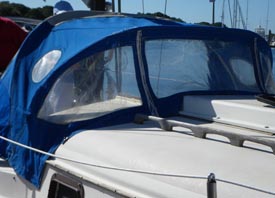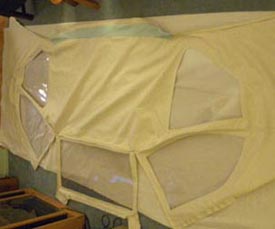 The old dodger and it's new replacement. The small porthole like side windows have been replaced with larger panels in the new version. The final hardware, snaps and twist lock connectors, will be installed once I get to the boat in the Spring 2010